I'd just been accepted into music school 425 miles away from home and was excited and terrified all at the same time…
 
I had been taking private piano lessons with my teacher since I was 5, but I was scared that I wasn't going to compare to all the other pianists accepted... 
 
I took 3 deep breaths and started my walk down the hallway to my new piano teacher's office, pausing to calm myself before knocking…

As the door opened, I was greeted with a smiling face and my eyes immediately darted to the two incredibly gorgeous and shiny Steinway baby grand pianos waiting for me... 
 
I sat down slowly, heart racing, and performed for her the 2 pieces I had painstakingly prepared for 2 years...
 
As I finished, I slowly turned my head to look at the reaction my new teacher had to my playing and awaited my critiques…
 
She had a pretty good poker face, no lie. She nodded her head for a few seconds and slowly walked over to the second baby grand piano next to me and said...
 
"Now I'm going to play you the same two pieces." 
 
I sat there, jaw dropped, eyes locked on her hands playing the same notes I just played, but ten times better…
And she was SIGHT READING...
 
When she finished, she asked me, "So what differences did you hear between my playing and yours?"…
 
I responded with, "Uhhhh, I think the shorter list would be what similarities I heard..."
 
She put her hand on my shoulder, smiled, and told me all of the wonderful things she noticed about my playing. Things that I never thought about or heard because I'd never recorded myself and really, truly listened...
 
We went over measure by measure, note by note, what I needed to work on and she applied it to my playing as a whole moving forward...
 
Who would have thought that after 12 years of playing piano I still had so much to learn!
I thought I had practiced a lot before coming to college. I was TERRIBLY wrong. 3 hours a day turned into 5 or 6 hours a day. Any and every spare moment I had I was in a practice room…
 
Between taking 21 credits a semester, doing hours of homework, working 2 jobs (1 of them was accompanying other musicians and practicing their music), and practicing my own music, I was being pushed harder than I had ever been pushed before...
 
I was so exhausted 2 weeks in that I began napping and even sleeping the night in practice rooms so I'd be the first one in there in the morning...
 
I was obsessed with becoming better. Obsessed with the high of being able to play something I couldn't play the day before. And every minute I was in that practice room I was focused on correcting the bad habits my new teacher pointed out to me...
 
As hard as I was working and as tired as I was, I loved becoming the pianist I always wanted to be. With the right teacher, I felt hopeful and in only 3 months I saw a dramatic improvement in my playing…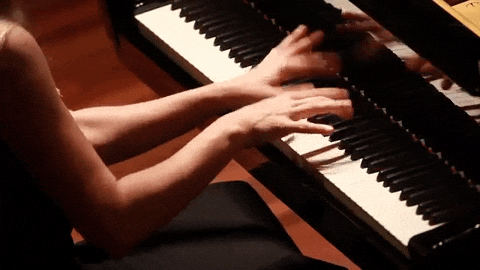 In that very first lesson she told me so many things, but 5 of them really stayed with me and changed my entire outlook on learning music and what it is to be a real pianist...
 
This time in my life was when I really fell in love with playing. I had a say in what I played, I became introspective and learned to listen as I played and I was able to learn, master, and memorize an entire Sonata in 3 months...
And that got me thinking…
"Why, after all these years, am I just learning these techniques now? Why was I taught these bad habits in the first place?"
I decided to make it my mission to become the best pianist and musician I possibly could in those 4 years of music school so that I could become a teacher to pass on the knowledge I now had...
Over 21 years later and I still learn something new every time I hear a professional pianist play, when I sit down at the piano my grandmother gave me to practice, or when I teach one of my students ...
But in all this time I have studied the effects of these practicing techniques on both my students and my own playing…
 
Nearly a decade after I had my first college piano lesson and I am still in love with playing and teaching.
I have taught students from all walks of life. 5 year olds to 70 year olds, total beginners to advanced pianists...
 
Over this time I have written down my thoughts and recorded my playing to actually see and hear the difference…
So I finally decided to write a guide with the 5 mistakes many pianists make and how you can correct them or avoid them altogether. And I put them in one place for musicians of all kinds to learn from…
 
The guide is called "The 5 Biggest Mistakes Piano Players Make (and how to fix them)
I want you to be able to experience how awesome this guide is so I'm giving it away for FREE!
You don't have to even play piano to enjoy the benefits of these techniques so why not take a peek…
To get instant access to this free guide, just tell me where to send it by putting your email in the box below. It's that simple.
In just a few minutes you see an email in your inbox with the subject line "Here's your guide!" That's all there is to it.
Do it now while it's still fresh in your mind. ↓↓↓↓
Talk to you soon,
Sara
P.S. As a special bonus you'll gain access to my exclusive members only Ask the Teacher club. Where I answer today's most popular piano questions weekly. So what are you waiting for? Put your email in the box above.
Please reload